Our holiday: Campervan tour from Auckland, 2020
Getting started
So the plan was this: wait until Sarah Rose had left to go back to England, and the school term was underway, then take off for Auckland to collect a hired campervan for a 2-week tour of the Bay of Plenty, across to Gisborne, Mahia, to Waikaremoana, thence to Waimangu, Waikite, then over to Kawhia, and Raglan before returning the van in Auckland, and spoiling ourselves with a couple of nights of comparative luxury in an Auckland Hotel before flying home to relieve Charlotte of the cat-sitting responsibilities. Several of these locations were places we'd not been before - Mahia, Kawhia, Raglan - some were indulgence - Waimangu, the Hotel to finish - and one involved staying with friends - Jack's parents in Ohope.
So that was the plan. I had even used Google to calculate the duration of the various days of travel in the van! Nothing over three hours driving!
Day 1: To Auckland to collect the van, then to Coromandel
We were packed the night before, so the early start wasn't a problem; in fact we were in good time to wait outside on the roadside for the Uber to arrive to take us to the airport. Check-in, and the flight was straight-forward, although finding the bus outside the airport terminal took a little interrogation of the instructions. At least they were to hand!
Then we seemed to visit every stop on the bus' itinerary before the campervan pickup stop. But there it was! At last!
They seem to require that customers wait while they do seemingly inexplicable 'things' before you can get to 'your' van. And when we finally did, they had 'upgraded' us from the 4-berth we had booked to a 6-berth! We're still not sure to this day, if that was to to our benefit or not!
It also meant the van was now a small truck, and somewhat bigger than I have driven before. Manouevring, judging distances, aligning it with spaces, and backing, were likely to be a challenge.
And, again, the 'briefing' from the customer service representative was cursory, although delivered by a very polite and well-meaning young lass, who just happened to be studying law and commerce in Wellington!
There were a couple of issues with a van before we would accepte - curtains not properly attached, missing safetly chain on a drain cover; nothing major, just niggly things which should have been spotted! We were to discover a day or 2 later that there were more irritating deficiencies, like a water heater that didn't work, and problems getting mains power to the van - the latter a result of the rushed briefing (solved by a phone-call to their helpdesk).
But as it has tendency to do, time marched on, and it was time we were on the road if we were to make our first destination in good time (& daylight!) So: swallow your cautions, and 'hit the road, jack'!
Despite its size (7.2 metres long), the van is easy to drive, helped by being an automatic, and with a very responsive engine. And being so high above the ground gives very good visibility.
Departing Auckland is quite simple - all roads seem to lead to/near the Southern Motorway, and that's what we need to be on. Once on it, it is just: down the road to the turn off at Pokeno, and follow the signs to the Coromandel.
The van handles the winding road across the Coromandel Peninsula with ease, and we seem able to avoid inconveniencing other vehicles. A stop at Tairua is needed for supplies - milk, tea, sugar, bread, wine, etc. Then we head to Hahei.
Our campsite is as close to the sea as we can get, and then we have the task of setting up for our first night, which means working out how to connect to the mains, and getting everything working. Not a simple task, given the nature of the briefing we had been given in Auckland. We manage, however, and then wander off to look at the view, and make our way to The Pourhouse for a drink.
We spend a pleasant couple of hours there, being entertained by the antics of the local gulls,and having some dinner, until the pressures of the day catch up with us. So now the challenge is to work out the sleeping arrangements. We settle for climbing up into the space above the cab; up a ladder to a low-ceilinged space. At least we'll be cosy, in summer!
---
Day 2 (13th): Hahei to Waihi Beach, Coromandel
Today's task is to 'strike camp' and head south to either Bowentown or Athenree, at Waihi Beach. Desiree's preference is for Athenree because it has heated pools, so she can have a soak.
So that's what we do. The road is largely coastal and winds down the western (or Bay of Plenty) side of the peninsula. We largely bypass Whangamata and the centre of Waihi (we've stopped for food here previously) and then head back out to the coast to Waihi Beach, and then run alongside the sea through an area very reminiscent of Ohope (where we'll be tomorrow). Bowentown doesn't impress, although the Pub is advertising "New Zealand music legend Corben Simpson" performing the following evening.
So it's off to the campground at Athenree, where we choose a spot beside the tidal estuary with a view across it to the hills beyond.
Once we're setup Desiree goes to the hotpool for a paddle, while I start sorting photos. Then it's time for a gentle stroll along the water's edge around part of the inlet/harbour. As it's low tide, the water is obviously very shallow and we see a number of people actually walking across the inlet back from the other side.
It's then time for a quiet evening in the van with some dinner & a drink, before sleep. Gosh being on holiday can be hard work!
---
Day 3 (14th): Athenree, Coromandel, to Ohope, Bay of Plenty
We're due to leave the Coromandel (although we probably did yesterday, in reality!) and dash across the flat Bay of Plenty to Ohope to stay a couple of nights at Jack's parents place.
I had calculated that it should only take us a couple of hours, although we planned to make a wee diversion to the Hot Springs at Awakeri for a soak in a private Spa.
Unfortunately, it didn't work out that way! To our great surprise (& annoyance) we got caught in a traffic jam well short of the suburb of Bethlehem, and spent over an hour and and a half getting to the other side of Tauranga - a task that should only take about 15 minutes.
I then missed a turn off, or got sent, into narrow country roads out of Welcome Bay, adding yet more time to the trip.
But wait, there's more! We then found ourselves entangled in diversions around roadworks between the tolled expressway and Highway 2, which also caused a degree of confusion and a little back-tracking. Ah, the joys of touring!
But we did (eventually) make it to Awakeri, and let the hot waters soak away the frustrations.
Then it was off to Ohope, with a small 'supplies stop' at a supermarket in Whakatane.
Chris & Phillipa were their usual welcoming selves, Oscar the dog was plaeased to have new people to sniff, and I had the challenge of parking the Van down a drive beside the house.
We spent part of the evening feeling envious of C&P's plans to visit our kids in London in May, but a drink or two, and a nice meal eased that.
---
Day 4 (15th): Ohope, Bay of Plenty
The plan for today was to do a lot of not much at all. We weren't going anywhere, and hadn't planned any sight-seeing. And I have to admit that we did it very well.
So we started the day late, and then wandered to the beach, which happened to be full of youngsters attending a Surf Lifesaving competition.
Needless to say we gave them a wide berth so as not to get in the way of their fun and games, and made our way to C&P's usual morning coffee haunt. Sitting in the sun with a coffee, chatting and meeting some of their local friends happily occupied over an hour.
The afternoon involved a nap (of course!) and help preparing 'a fine repast' for the evening meal, to which were invited a few of C&P's friends. So that spilled into a gentle, talk- and drink-filled evening.
Day 5 (16th): Ohope, Bay of Plenty to Gisborne
This section should take, according to Google Maps, just under 2.5 hours. Of course we stretch that somewhat because we stop for some morning tea at Opotiki, and on several occasions for 'photo opportunities'.
But before that we have to gather our belongings - not difficult - and then negotiate backing the Van out of the driveway past the neighbours house. I'd kind of put this out of my thoughts when I parked the Van, but now it became a more immediate concern, as there wasn't a lot of clearance.
Fortunately, the Van is very good at low speed, and has good wing mirrors, which are put to considerable use. I was impressed by my patience and accuracy! (And hope the others were, as well!)
Safely extracted from the driveway, and with Desiree onboard, we head off, through the very dry and brown eastern Bay of Plenty for Opotiki.
From there we head inland, on the road to Gisborne which will take us through the fiercely steep and densely forested Waioeka Gorge. The Gorge is the clear evidence of the erosive power of rivers, and yet the river itself is actually very small and innocuous looking - at least at that time. Doubtless that is part testimony to the very dry summer we were experiencing.
It was also encouraging to see gangs of maintenance staff walking along the road gathering rubbish, the effect of which was that the stretch of road appeared almost entirely litter-free!
There were a couple of attractive viewpoints in the Gorge, which used river stones in steel wire cages as structural features to great effect.
The road also rises windingly up to the 725-metre Traffords Hill summit. And then it descends down into the fertile Poverty Bay river valleys.
We have decided to visit the Eastwoodhill Arboretum outside of Gisborne. It proved to be a little further out than we had anticipated, and getting there was something of a challenge, but we did it!
It sprawls over a sizable area of hillsides, and has numerous glades, corners, walks and areas, not always as well signposted as one might like. BUT, the trees are just lovely, and diverse. I was particularly taken by a grove of palms, and Desiree by a water feature (of course she had to try it!) and a secluded park bench which encouraged her to 'rest and be thankful' - she did and was.
After the noise and stress of the road, it was a beautiful interlude of quiet and stillness.
But then we had to move on, to Gisborne.
We managed to find a supermarket to re-stock, and find our way to the Campground which is right beside the famous Waikanae Beach - brilliant!
A lovely walk by the beach, and then into town to find a quiet drink. Easier said than done. We finally spot a place selling 'local beers', so in we go, as one does. Only they were 'out of stock' of the local brews! So we had a drink, anyway, and then wandered back to the Van for a light dinner, and stroll watching the sun go go down on the beach.
Day 6 (17th): Gisborne to Mahia Peninsula
Well, that's the plan. except that, first, I have to refresh some medication I've neglected to bring with me. I need an extra supply of 2 of the 5 pills I take each day, so we find a pharmacy with whom that can be arranged and then contact my doctor's practice to arrange it. Seems they only do that at lunchtimes, so we'll have to hang about.
Time to kill: that means a cemetery visit, of course! We track down where my grandfather is buried, and off we head. Our Navigation system isn't as up to date as it should be, and is determined to send us us down a street which ends in a footbridge over a small stream! Thank heavens for intuition, and a sense of direction.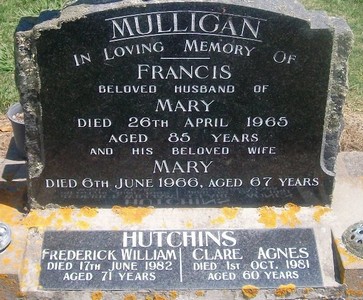 We get to the Cemetery, and find the grave-markers. Conveniently, the marker lists my grandfather, his second wife, as well as his youngest daughter, Clare, and her husband.
However, they're becoming overgrown with lichen, so Desiree judiciously applies a little vinegar and water, and we at least slow the advance of the lichen. All of which means we can get the regulation photos of me by my grandfather's headstone.
As we still have time to fill, we drive to the lookout on Kaiti Hill, which gives a superb view out over the City and the Bay.
At the appointed hour we go back to the pharmacy to collect my medication, and discover that they have sent prescriptions for all 5 of the pills, not just the 2 I needed. Oh well, they'll be taken at some time anyway.
And so it's off, south to the Mahia Peninsula. This is a short trip of just under 1.5 hours, but through some startingly different countryside: from lush costal flats, through drought-riddled sheep farmland, to pine plantations on the Wharerata uplands, then down to the Peninsula, with it's trees, and dry, dusty slopes and beaches.
Again, the motor-camp is beside the beach, and the shop sells enormous, real-fruit icecreams; mine is boysenberry, and delicious.
And that's it for the day! A quiet evening in the Van, and an early night.
Day 7 (18th): Mahia Peninsula
There's not a lot to do at Mahia, so we don't. Oh, we did wander into the 'village', such as it is, to get fresh milk and bread, but apart from that, read, rested and relaxed - the 3-Rs of Retirement!
The beach isn't as nice as it seemed, being extensively covered with a slimy vegetation.
The early evening consisted of a stroll back to the 'village', in fact to the Pub for a drink and dinner. Both were perfectly adequate, and typically generous servings.
And so that's Mahia - tick it off the list!
Day 8 (19th): Mahia Peninsula to Lake Waikaremoana
We start the day's trip, which should take us just over 2 hours, by retracing our steps somewhat from Nuhaka to Morere, so we can visit the hot pools. So keen are we that we get there just as they're opening! There is a concern amongst the staff that the private pool which we'll be using is too hot and needs to be cooled, so we're invited/encouraged to wander the pathway through the Reserve up to the other pools and back.
Being compliant souls, this we do, and are pleased we did, as it's a lovely gentle stroll through beautiful native forest rich with palms.
The Pool itself has a viewing window looking out over a small stream and some of the luxurious native bush - picturesque, and definitely more attractive than the pool at Awakeri.
We treat ourselves to a coffee and a muffin to sustain us on our trip south to Wairoa, where we fuel-up, and stock the fridge a little. I'm somewhat taken aback by Wairoa, as it strikes me as a picturesque town with it's centre alongside the River. But I'm well aware it has a deserved reputation as having a sizable, and not always peaceable, gang presence.
But we're not staying in Wairoa, so having re-stocked, we're off to Lake Waikaremoana.
This will take us a while, and will involve an unsealed road. I'm not especially looking forward to that, but am hoping the Lake will be sufficient reward. As it transpires, the road winds through a picturesque river valley for quite some distance before the seal ends, and then it begins to climb up into the Te Urewera highlands. The road narrows and winds, and the inside of most corners are extensively corrugated, which makes for a nerve-wracking ride, especially for Desiree, who doesn't especially enjoy being "shaken and stirred, on Corrugation Street".
I pause to look back towards the Eastern coastline, overlooking the Kaitawa and Tuai Power Stations and associated lakes. The landscape is beginning to enthrall. And then suddenly we reach a saddle, and there is Lake Waikaremoana, startlingly blue in the midst of verdant forest. Unfortunately, I missed the only reasonable place to stop for photos in a vehicle our size, so I'll have to settle for using other peoples'.
The road is still narrow, and the slopes quite precipitious, and as Desiree is now on the 'outside' of the road, she is understandably tense. But we continue down to the small "hamlet" of Aniwaniwa, where there is a motorcamp, at which we secure a berth and set up 'camp' beside the Lake. It is a glorious setting with forest right to the lake edge, waterfowl on the lake, and the camp with ample space. The hills surrounding the Lake appear a deep blue, and clouds distant and non-threatening.
But we are at 600 metres above sea-level, and surrounded by mountainous slopes clothed in bush, so, of course, by evening it is raining. Typically, the rain's onset is quite abrupt, and the downpour is quite heavy, which means we are confined to the van for the evening. Oh well, another early night!
Day 9 (20th): Lake Waikaremoana to Rotorua
The morning dawns bright and sunny, although the ground and vegetation still carries the evidence of the overnight rainfall. Our original plan was to spend the day here, and overnight before setting off for the next phase, but we decide instead to have a brief look around, and to then head off to Rotorua for the night.
So we pack up and move just up the road a little, stopping to look at a very impressive Vistor's Centre, while we try to work out where to find a walk to a waterfall or two. We decide we need to be a little further along the road so we head up out of the campground and back onto the unsealed road. A couple of hundred metres along we spot signs and parking area! So it's out of the van, with the camera, and enter the bush, following a clearly sign-posted path. The waterfall is only a short distance and while not large, has an impressive volume of water, and is surrounded by some gorgeous glades and tributaries.
Pleased with the find, we then cross the road to head along another 'road' to a second waterfall. This takes a little longer to get to, as it takes about 20 minutes walking to get to, but once there, again we find a delightful waterfall with impressive volume and a beautiful setting. Perhaps the only down-side are the numbers of other people at the same place; indeed, a coach-load of school-age youngsters arrive just as we're setting off. Fortunate timing!
Satisfied we've done our walking for the day we get back in the van and head off for Rotorua. Even with yesterday's experience behind us, todays leg of the journey is exacting. We start by winding through thick native forest around the edge of the Lake. Actually we are well uphill from the water's edge, but nonetheless the road winds and twists as we negotiate steep slopes, ridges and stream beds, meaning that a straight section of more than 30 or 40 metres in length is rare. And every corner, it seems is deeply corrugated.
Imperceptibly the road climbs the range surrounding the Lake, and then we begin to head 'down' as we cross the divide. We then encounter a rally of older, classic era cars, mostly large American models who seem hell-bent on getting to wherever they are going as quickly as they can! So we are passed numerous times, and always left in a cloud of dust!
Eventually, we are able to stop at Ruatahuna for a bite of lunch and a cup of tea. The facility is strikingly modern/new and impressive, given the isolated nature of the area. But also clean and welcoming, albeit with a somewhat restricted menu!
The road from here runs through a river valley - apparently the early stages of the Whakatane River, which means we need to be warned of "wandering stock". And sure enough, there is: delightfully, several pigs who seem hell-bent on racing us! But also cows and several horses - all safely avoided.
And then the seal begins, and then, abruptly, we leave the forest and hill slopes and drop onto flat coastal plains and well-managed fields and farms.
And so from there it is straight-forward drive to Rotorua, via Murupara.
Desiree has spotted a campground with a special offer which means a low rate, although it is around at Holden's Bay, near the airport, which is a little far out. But we weren't planning on doing anything other than staying the night in Rotorua, so that's where we went. It turns out to be fairly busy, but we find a good spot, and set up.
Desiree goes for a swim in the heated pool to help unwind from the tension of the drive, and I sit in the sunshine & read. I am joined by a nosey rooster, who ends up going inside the van, presumably to check it out! So I have fun and games chasing it out!
And then we lash out and stroll up the road for dinner at McDonalds. I know! Living it up, huh?
But that's how we close a long and tiring day.
Day 9 (21st): Rotorua to Waimangu then to Kawhia
We had decided that we would play "tourists" for one day at least, and visiting the thermal site of Waimangu was the location we chose, so that was our destination once we'd left Holdens Bay Holiday Park. It was easy to find, and to find a park for the Van.
Unfortunately, our arrival time meant we were left with a bit of 'Hobson's Choice' as to what we could do, but we decided not to let that deter us. So we paid our moneys and took our chances.
In other words, we booked a space on a ferry ride on Lake Rotomahana, and then set off to walk the 4 Km or so from the Visitor Centre to the Lake, where we are booked for a 45 minute cruise. The walk should take us about an hour (allowing 1.5 hours when stops included).
The first part is steeply downhill, and Desiree is reassured that we can return by bus, as she doesn't find walking uphill easy. The bush is varied, some of the views - across Frying Pan Lake, for example - are just lovely.
The 'sites' of interest are not 'spectacular' in terms of size or explosiveness, but they are fascinating, and, perhaps best of all, you are able to get quite close to most of them. And the walk, for most of the 4 Kms is more or less flat, especially closer to the Lake where the path wanders through a gradually widening river which eventually becomes simply a bay in the Lake.
We have bit of a wait for our Ferry ride, during which we occupy ourselves with bird-watching, sepcially a family of fluffy ducklings, and looking for colonies of frogs.
The launch cruise is somewhat underwhelming, and our fellow passengers appear to be a tour group of Germans, who feel a need to talk loudly. But it's a pleasant trip nonetheless.
We take the bus back up to the Visitor Centre, and have a bite to eat (& a welcome cuppa!) and then set off for Kawhia on the West Coast. We are relying on the inbuilt navigation application, and it makes the first of a series of puzzling decisions. Rather than taking us across to to Highway 1 at Tokoroa, we are sent to Ngongataha and then across the Mamaku Range, bypassing Cambridge, down to Tirau, and then winding our way to Te Awamutu. Later the Nav system sends on a narrow winding road which ascends a range of hills and wants us to descend to Kawhia down a narrow UNSEALED road. We decline; retrace our steps and stick to main roads.
We're pleased we did, because the road is a pleasant one with views of the coast and then winds around the shore of the extensive harbour until it finally arrives at the small settlement of Kawhia. Our campground is right on the shore, although that shore is a little 'scruffy', as is the harbour, of course, being tidal and quite shallow. Which meant that, given our arrival time, our view primarily is of extensive tidal flats.
But that's OK, so we settle in for the night.
Day 10 (22nd): Kawhia
Two nights in Kawhia, then two in Raglan is our plan. Both of these places are entirely new to us; neither of us have been here before. So two more to tick off the 'bucket list'. And no plans for either day - unusual for us.
Our 'rest day' begins slowly, as we watch the comings and goings around us, with paddlers launching kayaks to head out into the harbour to fish. The tide appears full at present, but still the mud flats mean that people can (& do) safely walk some distance into the water.
We decide to wander into the 'village' to see what it's like, never having been here before. There isn't much to it - a pub (naturally!), tiny Library, gas station, general store, takeaway shop, and, 'over there', across the other side of playground, a fishing club and Museum. Oh, and a "butterfly garden" full of the critters, and the biggest swan plants we have ever seen.
There is also a small gift shop, Te Riakina, filled with crafty products made locally and staffed by a retire public servant from Wellington! Needless to say, we make a few purchases for the girls, before braving coffee & a toasted sandwich in the takeaways shop. And then spend an hour exploring the little museum.
And that's it! At least for the early part of the day. Back to the van to read and snooze, before walking back to the Kawhia Hotel for dinner and a drink.
Kawhia is humming at this time of year!
Day 11 (23rd): Kawhia to Raglan
After the frustations of our navigation system trying to send us an absurd route to Kawhia, we decide to use more discretion and ignore its strictures for the trip to Raglan. This keeps us on sensible roads, and heading to Pirongia and Whatawhata.
I quite enjoy driving through rural Waikato - the roads are good, the landscape diverse, albeit dry, and so the views are varied.
Raglan is on the southern side of another harbour, again tidal, with a narrow entrance and full of expanses of tidal mudflats at low tide. So, as with Kawhia, we drive down from hilltops to a coastal settlement, but this one is larger, classier, and more vibrant.
The motor camp is on the other side of an arm of the harbour from the village proper, and we cross 3 bridges to get to it. It is a large affair, with significant numbers of fixed caravans. Apparently, they are expecting a school camp of 70 kids to arrive soon, so Desiree is able to persuade them to allocate us a site well away from where they will be placed.
When established, we walk into 'town' which involves crossing a playing field and then a foot-bridge over an arm of the harbour. We're in search of some lunch, which means we end up in trendy/fashionable The Shack cafe. the rest of the afternoon is spent sleeping and reading.
It being a Sunday evening, the town is quiet, but I am in search of a TV on which to watch the Tall Blacks take on Guam in a World Cup qualifying match. We settle for the Harbour View Hotel and fish & chips for dinner. The hotel staff are very accommodating of a basketball fan, but, best of all, the Tall Blacks win comfortably.
Day 12 (24th): Raglan
Gosh - another day of not much at all!
Eventually, we head back into town, to the same cafe for some lunch, then wander down to the Museum, which is surprisingly modern and, although small, has well (professionally) curated exhibits. Who knew surfing could be so interesting? Perhaps of most value to us were the numerous displays about the settlement history of the area, told through archeology and photography.
Desiree has a hankering to see "the surf", and so is determined to walk to the beach. Finding a simple route, and getting her orintation is easier said than done. But we eventually find a way to the harbour edge and begin the trek to the heads. It is further than originally envisaged, so we change palns and simply wander the beach, looking for "artefacts" - chipped stone fragments. We find a few to satisfy her curiosity, and then head back to the Van.
Being fair-minded people, we decide to spread our custom around that evening. We have a drink in one bar, and then wander up the road to a second place to eat. Both are perfectly acceptable. And the evening is quiet and peaceful.
Day 13 (25th): Raglan to Auckland
All things must come to an end. And today is our last day in the Van, which means we have to head back into Auckland, to return it, and then get to the Hotel in which we're staying.
We're getting skilfull at getting packed and heading out. The drive will be straight-foward, back to Whatawhata, then through Te Kowhai to Ngaruawahia, and then Highway 1 to Auckland. We pause for some morning tea at one of the service areas in the Bombay Hills, but apart from that (& a couple of pauses for snaps of churches) it's straight back to the depot to return the Van.
The check-in drags about a bit, as we explain that the hot-water heater doesn't work, and they want to test it. The technician declares it is working after turning it on, but the counter staff accept it isn't after waiting for the water to heat, to no avail. As a consequence they discount most of our diesel road-user charges. Eventually, we're sorted, and hail an Uber to take us into the city Hotel.
We rest and refresh for an hour or two, and then stroll downtown to our regular Irish bar - The Fiddler - for a couple of pints, and then around the corner to another regular haunt, the Italian Da Vinci's ristorante for dinner. To aid digestion, we walk back to the Hotel. Feeling both satisfied and virtuous!
Day 14 (24th): Auckland
A day for walking, and art.
First up, however, we splash out on a cooked breakfast at the Hotel. Then off to the Auckland Art Gallery, another of our regular Auckland ports of call.
We've seen some of the exhibitions before, but others are new. The one that especially takes my breath away, for it's size and the range and scale of the artists work is of Louise Henderson, a French-woman who married a Kiwi, and was a contemporary of Rita Angus. To my shame I'd never heard of her. But the growth and development of her mastery of techniques is eye-opening, and the exhibition is a 'life retrospective' so there are a LOT of works to look at. I'm particularly taken by a series of large panels of the vegetation outside her studio windows in Titirangi - the sort of blocks of colour in which you can get absorbed, in the same way you can 'step inside' Monet's Waterlilies in the curved Orangerie in Paris.
Lunch at the Gallery cafe, and then back to the Hotel to rest up.
That takes until late afternoon, when it's time to head off in search of a drink and dinner. We decide to head to the Viaduct Basin, and see what takes our fancy. En route we detour into Queens Arcade and I discover that Marbecks record shop hasn't closed, as I thought it had. Looking for Nadia Reid's new album proves fruitless, primarily because it hasn't yet been released! We'll just have to wait until we go to her show in Wellington in a couple of weeks!
We wander through the Viaduct Harbour, and settle for a pint or two at O'Hagan's, sitting outside in the early evening cool air.
Dinner was another matter. We decide against the fare at the Irish pub, and choose the Italian Portofino - yes, there is something of a theme here!
C'est la vie!
And that's the holiday. Because tomorrow we head to the airport to fly back to Wellington, and home. We've achieved our objectives: a successful Van tour, visited a number of places we'd not seen or visited before, done "touristy" things, relaxed and rested, and spent a couple of weeks on holiday during school term-time - an achievement worthy of note after all these years working!